International Students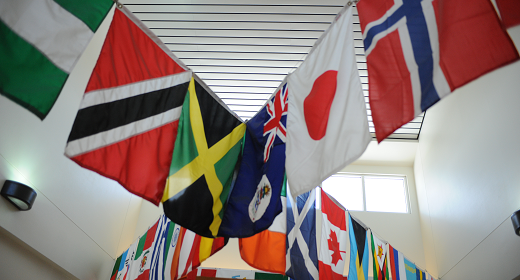 At Florida Tech, we welcome all international students and help to provide an M-1 Program for their stay. Also, through Florida Tech, foreign students can obtain an F-1 and J-1 Visa. Our students and instructors represent a diverse cultural cross-section, and we welcome all of them.
We proudly train students from countries across the globe. Our students, past and present, have come to train with FIT Aviation from Australia, Bangladesh, Canada, the Cayman Islands, Colombia, Costa Rica, Czech Republic, United Kingdom, France, India, Ireland, Italy, Jamaica, Japan, Kenya, Korea, Kuwait, Nigeria, Panama, Puerto Rico, Saudi Arabia, Spain, Turkey, and the Virgin Islands.
Visa Information
M-1 Visas
Because a large part of our students come to us from outside the United States for the sole purpose of flight training most new students will need to acquire an M-1 visa. The M-1 visa is a non-immigrant visa for international students who wish to pursue a course of study that is not principally academic in nature. Spouses and dependents of M-1 students are classified as M-2 non-immigrants.
F-1 Visas
The F-1 visa is issued for students who are attending a non-vocational school. That includes colleges, universities, high schools, private elementary schools, and more. Students who are perusing a degree program with Florida Institute of Technology in addition to flight training will be more likely to need the F-1 visa.
*For more information about visas, visit the Florida Tech International Students and Scholar Services website.
Resource Guide
Throughout our experience we have helped many students come to the United States to fulfill their dreams of becoming aviators. We know that leaving your home country is quite an experience. We also know that it can be a great help to have a helping hand throughout the process, that is why our Student Services department is here. We have helped many students through the process and in doing so we have put together a resource guide. The guide is intended to help you through the process of coming to the United States for your aviation training. It gives information on topics like basic immigration related terms to know, preparing to leave home, day-today life, and cultural adjustment. In addition, it provides contact information for our Student Services department if you run into any trouble or just need some clarification. We are here to help you! Click here to download the guide!
TSA Requirements
All non-U.S. citizens receiving flight training toward a Private Pilot License, an Instrument Rating, or a Multi-Engine Rating in the U.S. must receive approval from the TSA prior to beginning flight lessons. This process must be started immediately, because it may take as long as 4 weeks to be completed. Click here to download our TSA information sheet.
*Note that no flight lessons can be started prior to receiving final TSA and FAA approvals, however ground school is allowed.